Made Down On Woodridge Farm
Regular price
$121.00 AUD
Regular price
Sale price
$121.00 AUD
Unit price
per
Sale
Sold out
We will continue to restock this kit every Friday at 6 AM eastern standard time.
~~~~~~~~~~~~~~~~~~~~~~~~~~~~~~~~~~~~~~~~
Herbal Apothecary Starter Kit is just the thing if you're starting out on your herbalist journey and want to build your own home apothecary. It also makes a great gift for that natural minded kindred spirit in your life that wants to get started. 
You will receive a 1 oz bag of each herb in this collection. Each herb will be labeled and come in a zip lock baggie.
It all comes in a eco friendly recyclable tote bag. 
Kit also includes 2 oz organic beeswax pellets, one 2 oz aluminum tin and one 1 oz amber dropper bottle.
You can have fun making your own tea blends, salves, tinctures and more!
Every herb is grown without the use of pesticides or herbicides! These are organic or ethically wild foraged.
Apothecary starter kit includes: 
A booklet giving details of all included herbs so you can get to know your herbs
Info booklets included:
Easy Salve Recipe

How to make a tincture

How to make a glycerite

How to make infused herbal oils
And 10 one ounce bags of the below herbs:
Stinging 

Nettles

Calendula

Mullein

Lemon Balm

Holy Basil (Tulsi)

Peppermint

Chamomile

Ashwagandha

Echinacea

Hibiscus
It is your responsibility to research each herb thoroughly to understand side effects, interactions, contraindications, and correct usage.
**Consult a doctor before using if you have any health conditions or concerns, including autoimmune, pregnancy and breastfeeding. Please do your research prior to using any new herbs. Contact your provider and discontinue use immediately if any reaction occurs. Please keep in mind that reactions can occur with any product. Allergies can form at any age and point in your life. Research any and all herbs prior to using. This product is not intended to diagnose, treat, cure or prevent any disease. The buyer assumes all responsibility for items once purchased.
Share
View full details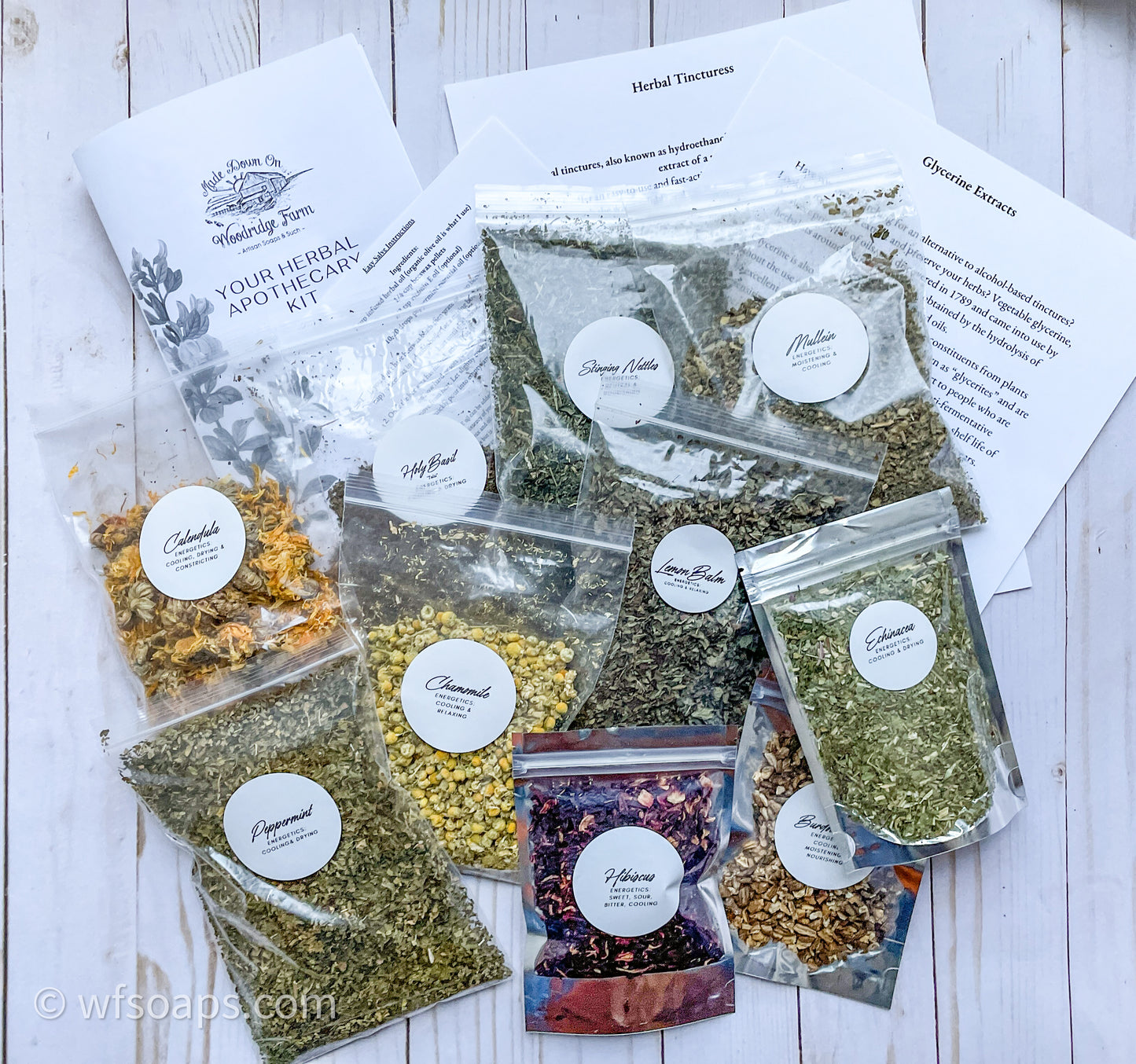 Great gift
I gave this to my sister for her birthday. She is a nurse and is a big fan of natural remedies. She was excited to experiment with this kit. Great gift for someone who appreciates the natural things in life.
Starter kit review
I ordered the apothecary starter kit along with some other herbs because I have felt a calling to start my own apothecary. This was an amazing offer and had just enough information for me to get my feet wet and figure out what else I needed to research. So far I've used a few herbs and they are great! You get such a good amount and the quality is amazing. The time and effort put into these products is incredible and the energy I received since using them really came from true passion and light!! 10/10 would recommend!
Perfect for a beginner!!
This starter kit is PERFECT for someone just getting started! Loved how so many of the most used herbs were included. I was able to get so many tinctures and oil infusions started from this kit. The how-to booklet and herb info booklet were super helpful as well. Very pleased with this first purchase. Will definitely be a repeat customer!!
Awesome starter kit
This contains a great selection of herbs along with helpful pamphlets. The tin, dropper bottle and bees wax pellets are a nice bonus. I can't wait to use it all!!
Came together the exact beautiful way I imagined 😍😍
I was so excited for my apothecary kit to get here; but I knew I had to have a place to put it. Quick stroll on Marketplace, a haggle from $100 down to $65, a LOT of elbow grease, and a vision I couldn't get out of my head later, everything came together!! My herbs look so gorgeous in their jars, I love the little labels I got so I can change out jars way easier than stuck on labels, and I am ready to get apothecarin'!! I love the book that comes with it, very user friendly and easy to follow. And it's just so dang beautiful! 😂 Thank you so much!!!