Made Down On Woodridge Farm
Regular price
Sale price
$39.00 AUD
Unit price
per
Sale
Sold out
Important Summer Shipping Update: 
Attention all Balancing Blue Balm enthusiasts! . As we are in the summer season, we want to ensure that your balm arrives in the best possible condition, even amidst the challenges posed by warmer weather during shipping.
While we take all necessary precautions to maintain the balm's consistency, there is a slight possibility that it may arrive slightly melted due to the summer heat. But fear not! Should you encounter this, we have a simple solution. Just pop the jar in the refrigerator until it solidifies again. Once it reaches the desired texture, you can either whip it up for a fluffy consistency or use it as is, knowing that the incredible benefits of Balancing Blue Balm remain fully intact.
This true skin food can be used on the face/body and has many uses such as everyday moisturizer, night cream, scars, cuts, burns, bites, tattoos and more. Use it head to toe!
You can use this balm on all skin types, including oily skin. A little of our tallow balm goes a long way. If you do notice it's getting greasy, that probably indicates you are using too much.  It is easy to overdo it with this balm, start small, especially with facial applications but also go nuts, you can use this anywhere on the body.
We highly recommend our Balancing Blue Balm for those who "have tried everything" but still break out in red spots and rashes. Tallow is compatible with our natural sebum and works with it, not against it, to soothe and repair aging or damaged skin without clogging pores or triggering autoimmune reactions.
~~~~~~~~~~~~~~~~~~~~~~~~~~~~~~~~~~~~~~~~~~~~~~~~~~~~~~~~~~~~
TALLOW:
- Rich in nutrients – This tallow balm allows your skin to absorb more nutrients while being rich in vitamins A, D, E, K, and B1.
- Tallow reduces inflammation because it contains linoleic acid, which is a natural anti-inflammatory
- Helps protect against lipid peroxidation which can damage pores
- Helps neutralize damage caused by UV light
BLUE TANSY:
Can calm irritated skin, reduce heat, and relieve delicate or troubled skin.
Ability to clear congested pores, kill off pimple-causing bacteria, and reduce redness, making it one of the best oils for acne-prone or irritated skin.
SQUALANE OIL:
- Hydrates the skin while softening texture soothes skin and prevents irritation
- Non-comedogenic - non pore clogging
- Oil control, lightweight will not leave an oily texture
- Can help fade the look of dark spots
- Similar to our own skin's oil to prevent moisture loss and restore suppleness
JOJOBA OIL:
-Non comedogenic - non pore clogging
-Super hydrating and moisturizing
-Contains antioxidants such as Vitamin e, A, and D
-Contains minerals such as zinc, omega 6 and 9
-Helps balance natural oils
-Can help with fine line and wrinkles
-Can help protect your skin
Additional uses:
Slather it on your feet and cover with socks to find the softest tooties ever in the a.m.!
Hair treatment Apply to the tips of your hair and gently tousle the roots for volume.
2 fl oz aluminum tin
Or
2 fl oz glass jar
Suggested use: apply a small amount on clean face as needed, up to twice a day will be enough even for a very dry skin, or use only as a night time moisturizer for oily skin types.
Ingredients: Organic Grass Fed Tallow, Organic Jojoba Oil, Olive Squalane Oil, Camellia Seed Oil, Jojoba Seed Oil, Fractionated Coconut Oil, Beeswax, Blue Tansy Oil
*This is for external use only. Nothing stated here is to treat or diagnose any medical conditions nor is it medical advice. Please test a small area on inner arm before applying and wait overnight to ensure there are no allergic reactions or skin sensitivities.
Share
View full details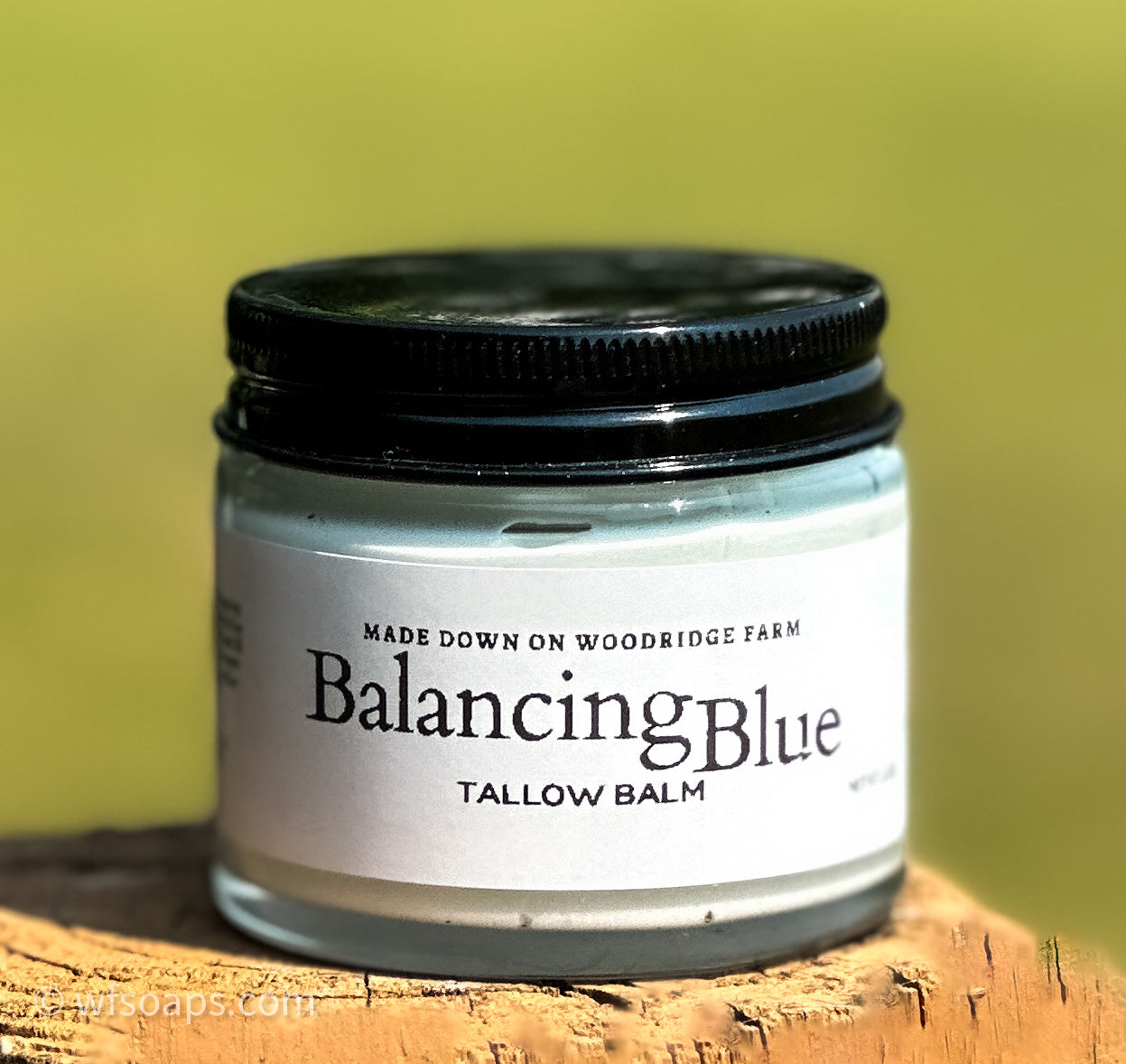 Balancing Blue is Awesome!
I got this for me and my husband to use on our faces for Rosacea. It seems to be reducing the redness that I sometimes get with a breakout. Right now I'm using it for maintenance I haven't had a breakout in a while, so maybe it's helping to keep it at bay!! Love your products, Linda!
Exactly what I was searching for!
The Balancing Blue & Soothing Balm does a great job moisturizing, and keeps my skin nice for days without needing serum, moisturizer, and oil together. The perfect one stop shop for my facial moisturizer needs!
All you need is a little balancing blue
I got this for my teens to help with acne I tried it and love it also!. It helps the teens with acne and I love how it makes my skin look and feel. Amazing product!
Divine!!!
The Balancing Blue Soothing Balm is divine!! I actually bought this for my husband as he is often out in the elements and his face gets so dry. However, I tried it and now I can't stop using it!! It is so light and creamy. It not only is soothing but I love the way it feels and smells.
I have only had my order for a couple days now but so far I love it. I use it on my face and my hands due to eczema and it has been helping. I'm excited to try a few more things from you. Interested in the dish soap and shampoo and bath bars maybe even the body butters 😁