Made Down On Woodridge Farm
Regular price
Sale price
$23.00 AUD
Unit price
per
Sale
Sold out
NEW IMPROVED FORMULA for 2023- This organic blend helps expel mucus & helps cleanse the lungs & sinuses. This blend is also GREAT for allergies!
Support the healthy functioning of your lungs and respiratory system with our respiratory support tea. This herbal tea is all-natural and organic. It can be enjoyed anytime but is especially helpful when you have a cough, congestion, or a sore throat. It is packed full of soothing herbs. Add your favorite local honey for even more medicinal benefits and sweeter taste. Our loose leaf teas are specially formulated using the highest quality ingredients to bring you the most nutrients and benefits possible.
This blend includes nine herbs with potent antimicrobial, anti-inflammatory and antioxidant properties to promote respiratory wellness. While tulsi, licorice, calendula, yerba santa and turmeric help to counter pathogens and ease inflammation, mullein, marshmallow and elecampane root help to loosen congestion and soothe respiratory passages and throat. The addition of peppermint brightens the flavor of this tea and helps to make breathing easier. For best results, enjoy sipping this tea hot.
Steep 1 tsp of loose tea for 8-10 minutes (covered) in 6-8oz of hot water
Tea can be reused again later the same day for another cup
Ingredients: (All Organic Herbs )Mullein Leaf, Marshmallow Root, Yerba Santa Leaf, Turmeric Root, Elecampane Root, Tulsi Leaf, Licorice Root, Peppermint Leaf, Calendula Flower
2 oz sealed bag - This bag will make approx. 24 cups of tea
Disclaimer: These statements have not been evaluated by the FDA. This product is not intended to diagnose, treat, cure or prevent any disease. No claims or guarantees are made regarding the effectiveness of this product. Discuss with your doctor prior to use. Herb information provided for educational purposes only. Not a substitution for advice given by your primary caregiver. Please research any new herb and consult your health care providers for possible drug/herb contraindications and precautions before ingesting. I urge consumers to please do your own research on all ingredients before buying and only do what makes you comfortable. Please consult with a qualified healthcare practitioner before using any herbal products, particularly if you are pregnant, nursing, or on any medications.
Share
View full details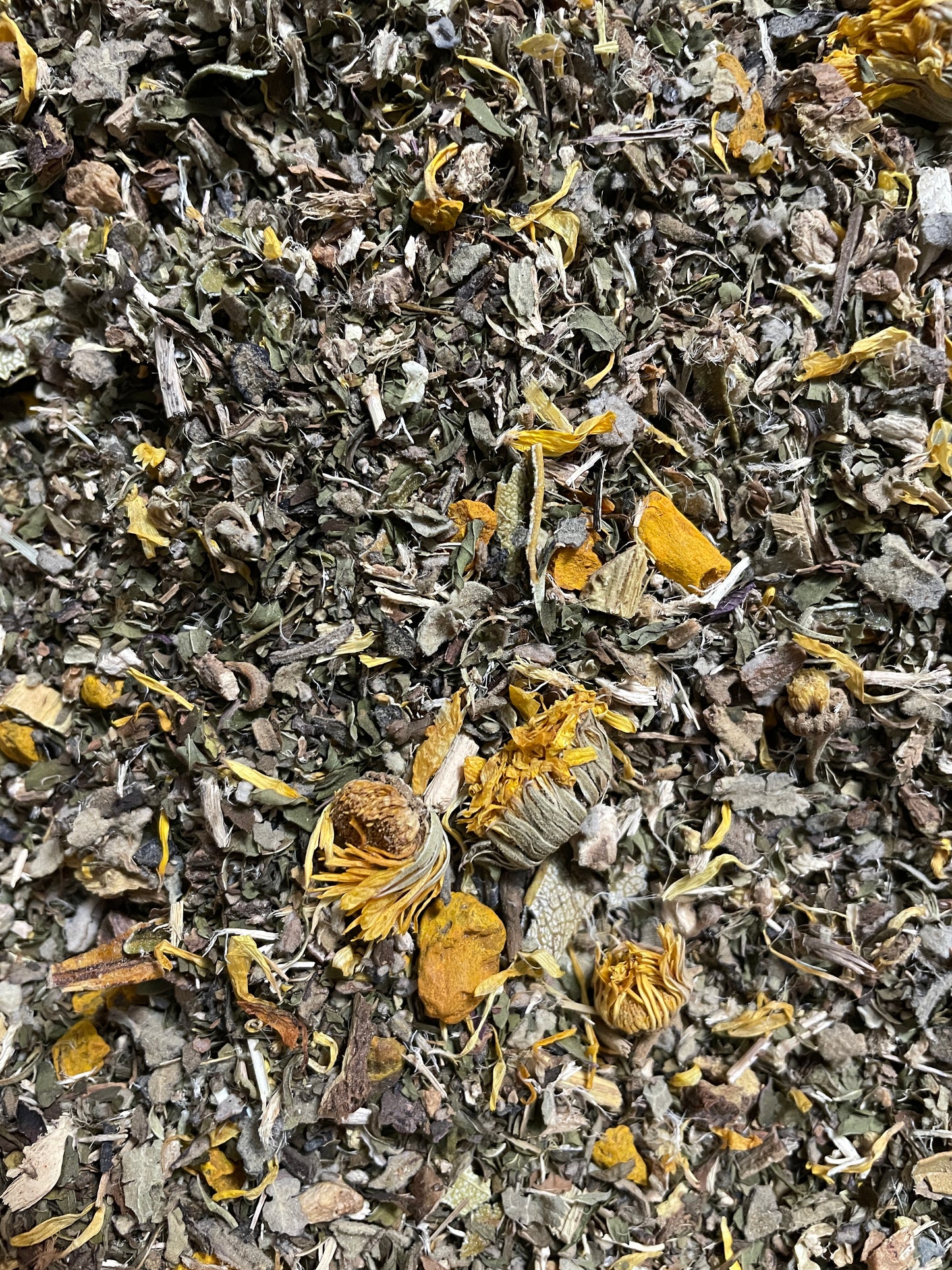 best tea ever
I got it for my husband but I use it as a tea when I'm sick and made a tincture for him to use, will buy again, thank you!