Made Down On Woodridge Farm
Regular price
Sale price
$44.00 CAD
Unit price
per
Sale
Sold out
Gentle, hydrating and soothing to the skin.
Enhance your skins glow and radiance from within.
A daily herbal face oil to help balance the skin. It works well on most skin types.
We started with a base of squalane, camellia and jojoba oil which are all premium oils that are known to absorb well to any skin type. Then we added in a trio of powerful oils with rosehip, evening primrose and sea buckthorn. We rounded out our oils with a unique exotic oil with marula oil which is said to have properties from anti aging to reducing inflammation. Lastly we created a wonderful fresh scent with rose absolute and chamomile essential oils. All these amazing ingredients mean that this oil goes on silky smooth, absorbs quickly and leaves the skin soft and moisturized with a light scent that is just enough but not too strong. 
To Use: Massage 4-6 drops into clean skin twice daily.
Wait 10 minutes before applying makeup. (Discontinue use if irritation occurs.)
Packaged in a 1 oz glass dropper bottle
The beauty of this oil is in the properties of our mindfully chosen ingredients.
Squalane (olive source)
Helps maintains skin's moisture barrier and hydration, and is also an antioxidant that has anti-aging properties for neutralizing environmental damage
Camellia Seed Oil
Outstanding anti-inflammatory properties
If you suffer from psoriasis, eczema or rosacea or acne, camellia oil helps to sooth irritation and reduce redness and swelling.
This wonderful oil is full of antioxidants as well as omega fatty acids which help nourish the skin from the inside out
Jojoba Oil
Deeply hydrating
Nutritious for Skin -Full of nutrients like Vitamin E and B, as well as antioxidants and minerals like chromium, copper, and zinc, which all nourish and protect skin.
Anti-Aging - Because it is the perfect moisturizer, Jojoba can help slow down the appearance of aging, and help to fade fine lines and wrinkles.
Anti–Microbial- Won't clog pores and it deters microbes, helping to prevent the growth of bacteria on skin
Soothes dry skin
Gentle & Non-Allergenic
Rosehip Oil
It protects the skin and increases cell turnover because it contains beta-carotene (a form of vitamin A) and vitamins C and E, which are all antioxidants that help fight free radicals.
Can help to reduce scars and fine lines
Hydrates dry skin
Helps improve skin tone, texture and pigmentation
Protection from age spots
ADDED BONUS: a top form of Vitamin C, Rosehip oil helps to boost the body's immune system.
Cold Pressed Marula Oil
Nourishing properties to condition and repair. A natural healing remedy to smooth and support the skin
Strengthen the skin's natural protective barrier. Naturally rich in antioxidants, Vitamin C and E, and essential fatty acids, Marula Oil is an easy way to improve the skin's resistance to weather and external aggressors.
Anti-ageing benefits. Combining anti-pollution defense and anti-ageing benefits, Marula Oil truly does it all
Evening Primrose Oil
Helps heal and treat acne
Evening primrose oil makes the skin soft, supplies it with essential nutrients and healthy fats, making your skin look youthful and plumped
Primrose oil is also known for its anti-inflammatory properties, including the ability to reduce swelling, redness, itching, and rashes.
Known to lighten the skin and reduce dark spots
Can reduce hyper pigmentation
Can help reduce redness
Brightens skin
Strong antioxidant properties that help prevent free radical damage on the skin
Sea Buckthorn
It is known for its healing benefits, skin hydration, and production of more collagen that helps to plump your skin, and smooth fine lines and wrinkles.
Sea buckthorn oil is especially wonderful for acne sufferers as it directs the oil glands to stop producing excess sebum. This leads to a decrease in acne breakout as well as prevents it from future breakouts.
Known in helping to fade acne scars, heals blemishes and give you a smooth skin texture
Improves the skins hydration
Helps Increases collagen level to boost the skins elasticity and firmness
Rose Bulgaria Absolute
It moisturizes and purifies skin by pulling toxins out of its outer layers
Antibacterial and balancing properties
It enhances natural skin glow and radiance and helps with superficial broken capillaries and scars, as well as eczema and roseate.
Adds vitality and balance to the skin
Chamomile Roman Essential Oil
Antibacterial properties
Natural Stress reliever
Natural antioxidant
Detoxifies
Non GMO Vitamin E
Antioxidant that can help protect skin from UV damage and free radicals
Can help improve skin's complexion and reduce inflammation
Can help to heal the skin. It is very nourishing and can help improve skin's elasticity and maintain healthy, happy skin
Ingredients: 
Squalane Oil (olive source), Camellia Seed Oil, Jojoba Seed Oil, Extra Virgin Rosehip Oil, Cold Pressed Marula Oil, Unrefined Evening Primrose Oil, Tocopherols (Non GMO Vitamin E), Sea Buckthorn, Rose Bulgaria Absolute, Chamomile Roman Essential Oil
Share
View full details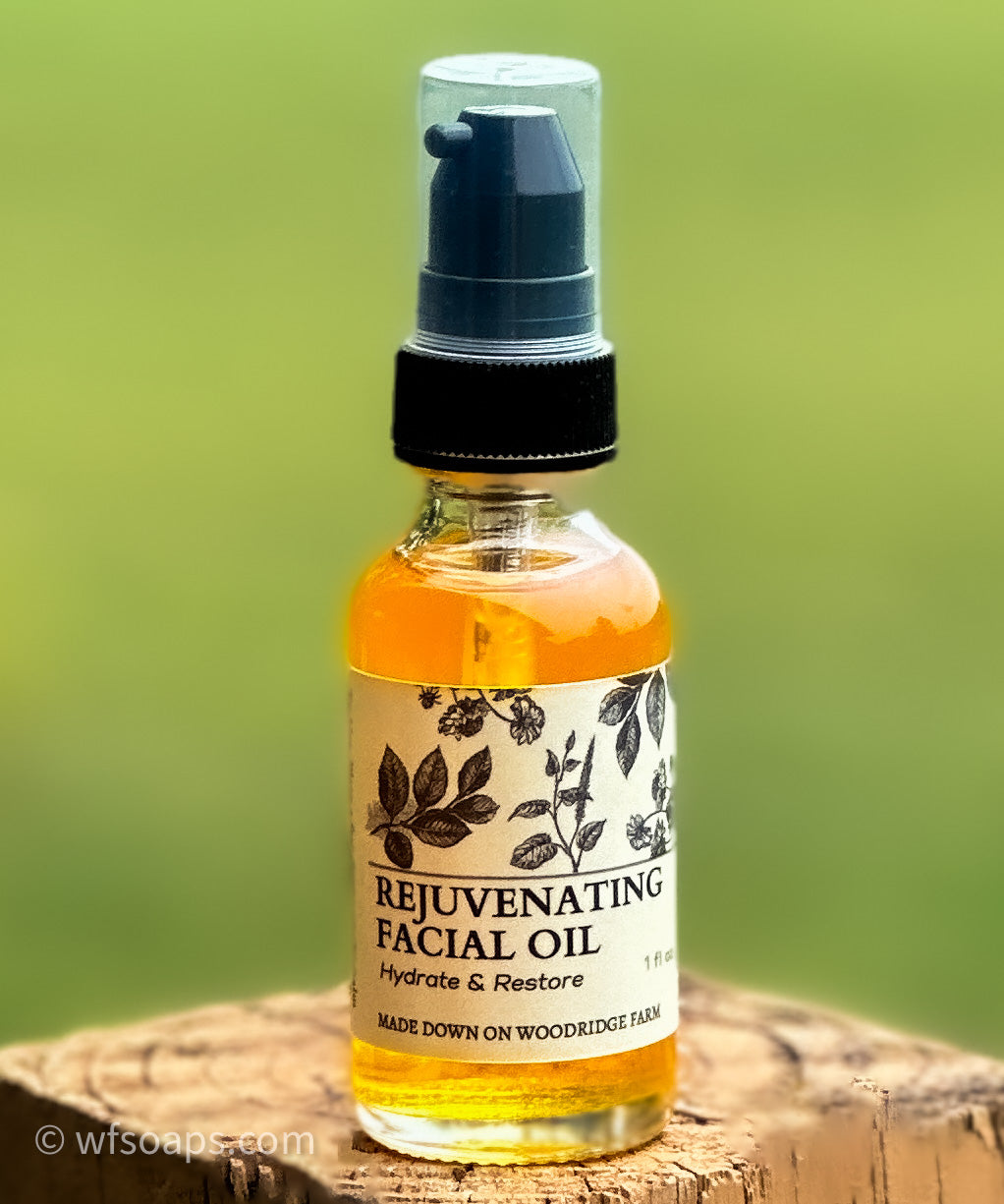 Clear skin
Smells so good and makes my skin look radiant
Perfection!
I absolutely love this facial oil. Moisturizes and makes my face feel soft and hydrated. Smells great too! Will definitely purchase again…and again!
Love the products and service
Very pleased with almost all of the products I have ordered. Service is very good.
Delightful
The facial oil is wonderful. It's not too heavy, it smells heavenly, and absorbs quickly. It has caused no irritation and has definitely benefitted my skin. Will happily order again.
Rejuvenate my old Skin
One little drop is all you need every day to make your skin feel like it has more moisture and elasticity. The skin under my eyes has less puffiness and seems like my dark circles are starting to fade. I was concerned about breakouts since it is an oil, but it is so light and doesn't plug up my pores. Thank you for making such a great product 🥰