Made Down On Woodridge Farm
Regular price
Sale price
$14.95 USD
Unit price
per
Sale
Sold out
A refreshing blend of herbs developed to stimulate the lymphatic system:
Our Lymphatic Cleanse tea is made up of:
Calendula: detoxifies the gall bladder, liver and other organs
Lemongrass: stimulates digestion and blood circulation leading to a faster removal of toxins
Red Clover: purifies the blood and helps the body rid itself of excess fluid
Fennel: soothes the digestive tract enhancing its ability to eliminate waste
Echinacea: has high levels of vitamins and minerals which strengthen the Body
Nettle: helps prevent fluid retention  
Burdock Root:
Astragalas Root:             
Our Organic Lymph Love Herbal Tea is a blend of herbs that are great for helping you in doing a lymphatic detox or cleanse.

Our lymph nodes are so important to our body and they often get sluggish or even clogged. This results in swelling, blemished skin and aches to name a few things.

If you've never taken time to care for your lymphatic system, now is the time!

Suggested use: drink a cup of Lymph Love tea daily for 2 weeks to keep your lymph nodes happy, drained and working well. 
2 oz resealable bag
Ingredients: (All Organic) Nettles, Red Clover, Echinacea, Lemongrass, Calendula, Fennel Seeds, Burdock Root, Astragalus Root
 Some possible signs of a sluggish lymph system include:
-fluid retention
-low immune system
-brain fog
-digestive issues
-chronic fatigue
Disclaimer: These statements have not been evaluated by the FDA. This product is not intended to diagnose, treat, cure or prevent any disease. No claims or guarantees are made regarding the effectiveness of this product. Discuss with your doctor prior to use. Herb information provided for educational purposes only. Not a substitution for advice given by your primary caregiver. Please research any new herb and consult your health care providers for possible drug/herb contraindications and precautions before ingesting. I urge consumers to please do your own research on all ingredients before buying and only do what makes you comfortable. Please consult with a qualified healthcare practitioner before using any herbal products, particularly if you are pregnant, nursing, or on any medications.
Share
View full details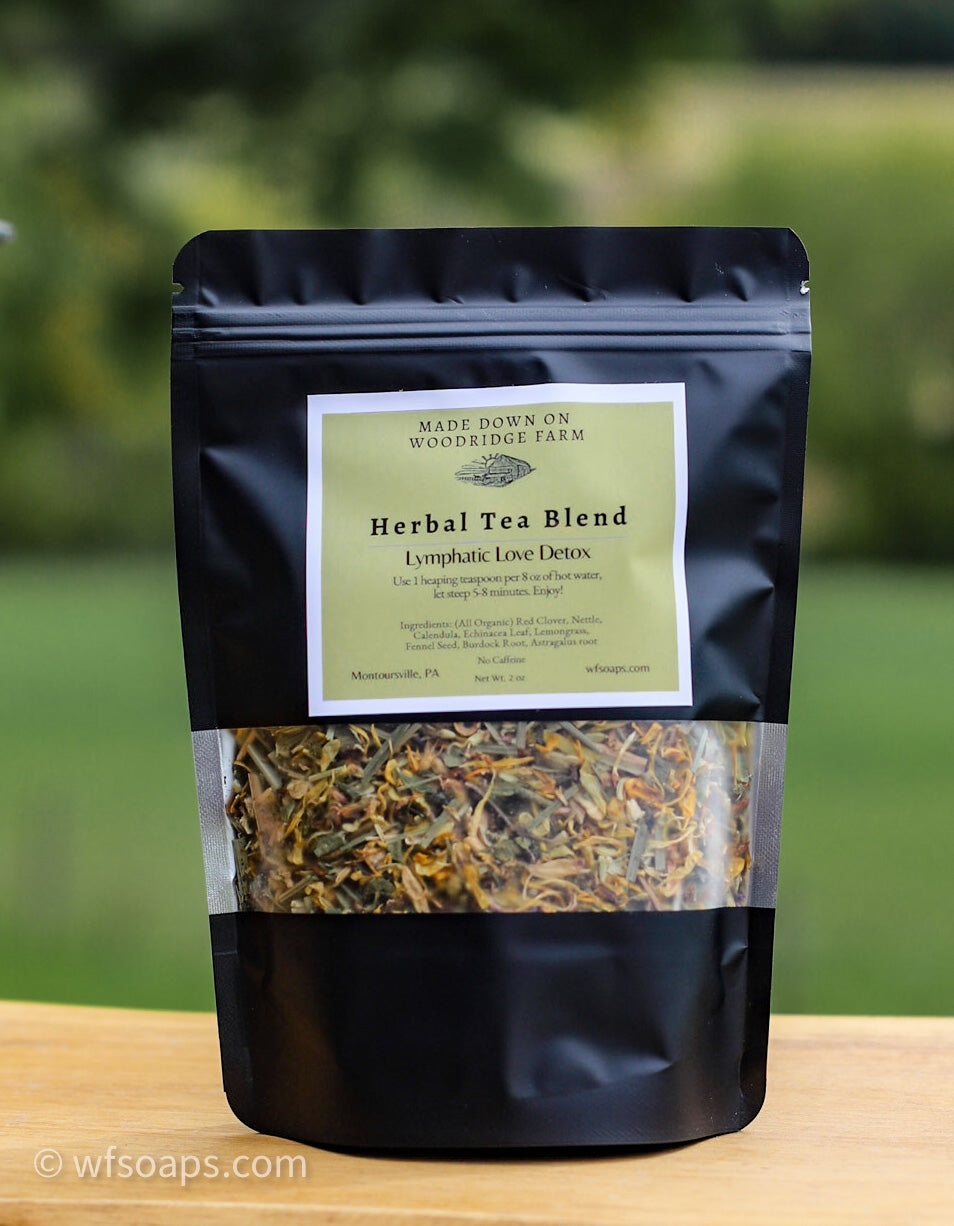 The lymphatic love is one of my favorite products. I enjoy a cup daily. This is my 2nd or 3rd bag. I feel much better when I have a cup every day.
Everything arrived fast and nicely packaged. The tea is very delicious and will continue to use.
Lymphatic love
This tea is very delicious and I know it is working because my lymph nodes have been sore telling me they are moving old lymph out.