Made Down On Woodridge Farm
Regular price
Sale price
$25.00 AUD
Unit price
per
Sale
Sold out
lol This all-natural beeswax based salve is ideal for tired and sore muscles, achy joints, bruises, arthritis and sprains. The soothing botanical oils and herbs found in this salve were specifically chosen for their anti-inflammatory and pain relieving properties.
TO USE: For best results, gently massage a liberal amount of salve over the affected area one to three times daily. For external use only. For headaches or TMJ discomfort, apply to your temples, forehead, jawline, and neck. The scent is also very uplifting and it can help with depression and brain fog.
Our Hurt-Away is an infusion of organic arnica flowers, organic comfrey, organic white willow bark & organic st john's wort in organic extra virgin olive oil. These herbs together are a powerful supportive combination. 
HERBS USED IN THIS SALVE:
• Arnica is known for reducing swelling & decreasing pain.
• Comfrey has been used to heal bruises as well as pulled muscles & ligaments, fractures, sprains, strains, & osteoarthritis.
•White Willow Bark is used for pain, to help relieve sore muscles, joints, headaches, & arthritis amongst many other discomforts.
*St John's Wort has been proven to help with nerve pain.
ESSENTIAL OILS USED:
*Frankincense has anti-inflammatory and analgesic benefits that may help reduce joint inflammation caused by arthritis.
PACKAGING CHANGE, THIS SALVE NOW COMES IN 2.5 oz twist-up tube
Ingredients: Organic Herbal Infused Olive Oil( Arnica, White Willow Bark, St John's Wort, Comfrey, Local Beeswax, Essential Oil.
CUSTOMER TESTIMONIALS:
Customer #1 I received my order yesterday and used the rub on my feet last night. My feet still had the annoying numb feeling from the neuropathy but the burning, tingling and pain was almost gone! I'm very pleased! Thank you.
Customer #2 Hey Linda, I just have to tell you, I just left my parents house and my dad was raving about your hurt-away rub! He had gotten to where he could barely walk up-and-down the steps he said now he can get all the way down and it only starts to bother him about the last 2 steps and it's not even bad but just enough that he can feel it. Thank you for all of these wonderful products that you make!
Share
View full details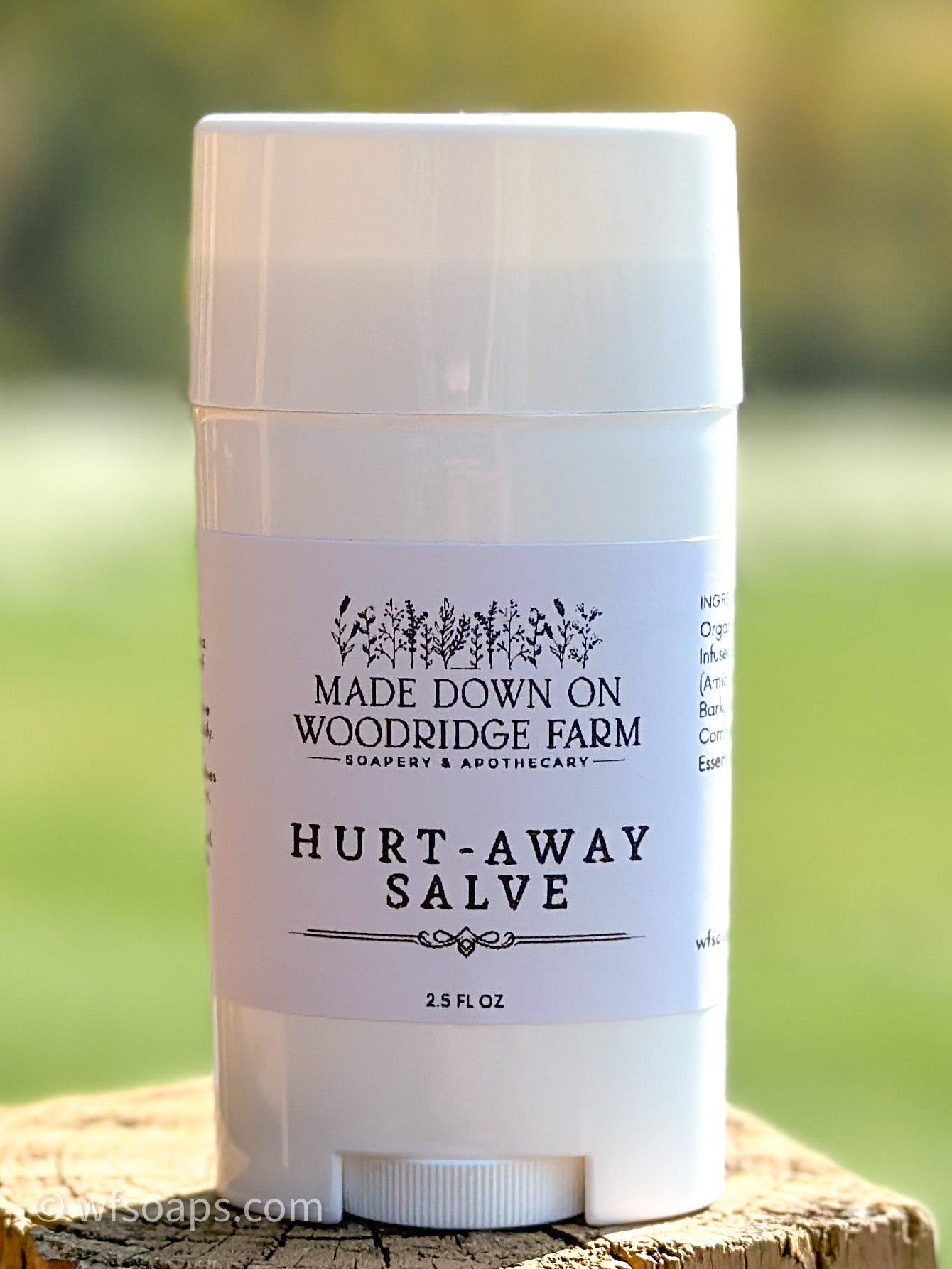 The best
I recently purchased this salve for my various veins in my leg that hurt me everyday an after applying the salve the pain was almost gone a felt a lot better to do my day to day activities. So glad I came across woodridge farm I will be a life time customer. Also this company makes sure when your box arrives that you open your shipment with a smile it was packed so nicely ☺️
Hurt away salve
Works great, had relief to my knee that lasted all day.... naturally!
Love the ingredients
I am on day two of using the Hurt-Salve and so far the product is great.
I love all the natural ingredients and especially the comfrey, which I have recently learned about all the benefits.
Works good
Tried it immediately upon getting it, applied it to my shoulder which has been troubling me, and within an hour the pain had subsided.